Analogue/VoIP/SIP Emergency Telephone Door Phone Lift Intercom Phone Elevator Phone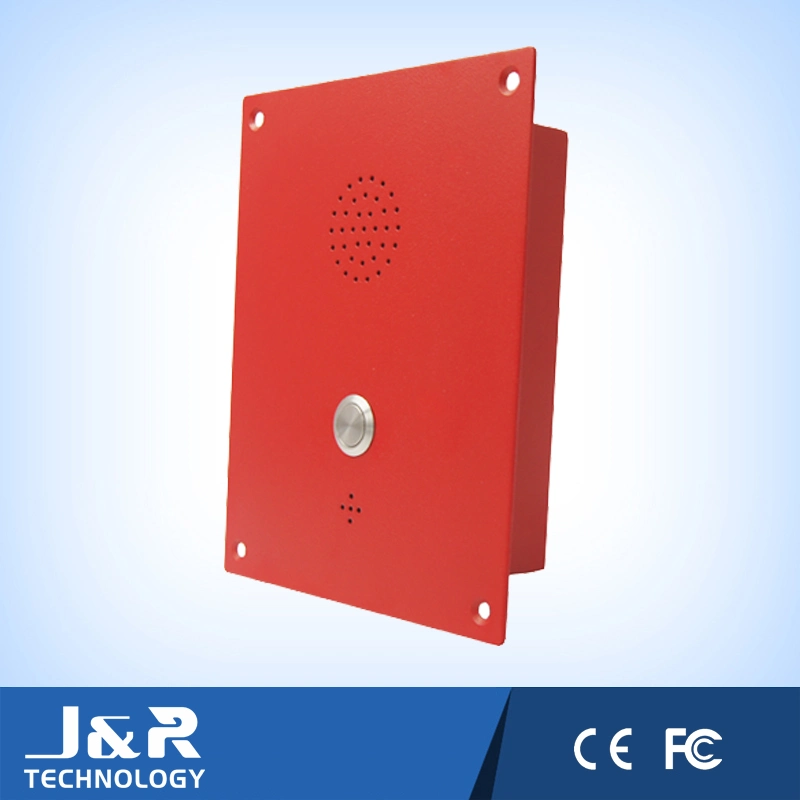 FEATURES
Standard Analogue phone
Robust housing, constructed of cold rolled steel with powder coated
Vandal resistant metal button
Hands free operation
Programmable for speed-dialing (PPT)
Can be programmed remotely by tone phone
Non-volatile memory
Flush Mounting, simple installation
Weather protection IP54-IP65
4 X Tamper proof screws for mounting
Fast-fit terminal connection
Telephone line powered
CE, FCC compliant
APPLICATIONS
The Vandal Resist Emergency Telephone is based on a stainless steel faceplate and provide a clear handsfree, loud-speaking operation for any public area. It is designed to meet the needs of clients who experience loss through vandalism.The Telephone Ideal for schools, streets, public square, court houses, rail platforms, car-parks, police stations, hospitals, outside buildings, gate entry, etc.
WARRANTY REPALCEMENT
1. J&R offers free replacements for complete products or parts within 90 days:
A. Scope:
a. Hardware damage during shipment.
b. Hardware damage under normal using according to standard operation criterion of J&R.
c. Other defects authorized by J&R.
B. Requirements:
a. Model No. P.O. No. PI No. , Shipment date etc.
b. Provide a detailed description of any defects and cause, including a literal description and picture illustrations.
c. The Original J&R packaging if possible.
C. J&R may refuse to replace the products for any of the following reasons:
a. Without intact J&R label, or serial number has been removed or defaced, or SN cannot be clearly identified from purchaser.
b. Any illegal disassembling, repairing, refitting etc .such as if the products are maintained or modified by any maintainer unauthorized by J&R.
c. If the products are maintained or modified by any maintainer unauthorized by J&R.
d. Any defects that resulted from improper storage or unsuitable working environment.
e. Damage or loss of J&R products because of natural disaster (such as earthquake, fire or flood) or other external causes, social unrest or governmental policies etc.
f. The product or part that has been modified to alter functionality or capability without the written permission of J&R.
g. Any lack of components, components damage from purchaser.
2. Replacement Flow:
a. Apply for a valid RMA number from J&R.
b. J&R will checks up whether the product is qualified for a replacement and will responds within one working day via fax or e-mail. (This response is not the final one. If the returned products do not qualify for replacement, J&R has the right not to replace them and the products will be returned to the customer or disposed of under negotiation.)
c. Purchaser should send the defective products, with the original packaging to J&R after obtaining the valid RMA number. Purchaser prepays the freight charge from its local city to ShenZhen, China.
d. Within 1 week after the receipt of the returned products, J&R will send the replacements to the purchaser. J&R will prepay the freight charge from ShenZhen to purchaser's local city.
TECHNICAL SPECIFICATIONS
| | |
| --- | --- |
| Operating Temperature | -30°C to +65°C |
| Storing Temperature | -40°C to +75°C |
| Ringing Tone | Shrill warble tone 80 dBA @ 1 metre typical |
| M.T.B.F. | excess of 50,000 hours using |
| Dialing | MF (tone) |
| Lightning/Transients | Protection to ITU-T k.21 enhanced levels |