IP/WiFi 4-Wire Memory 7 Inch video Intercom Video Doorphone Home Security Interphone video doorbell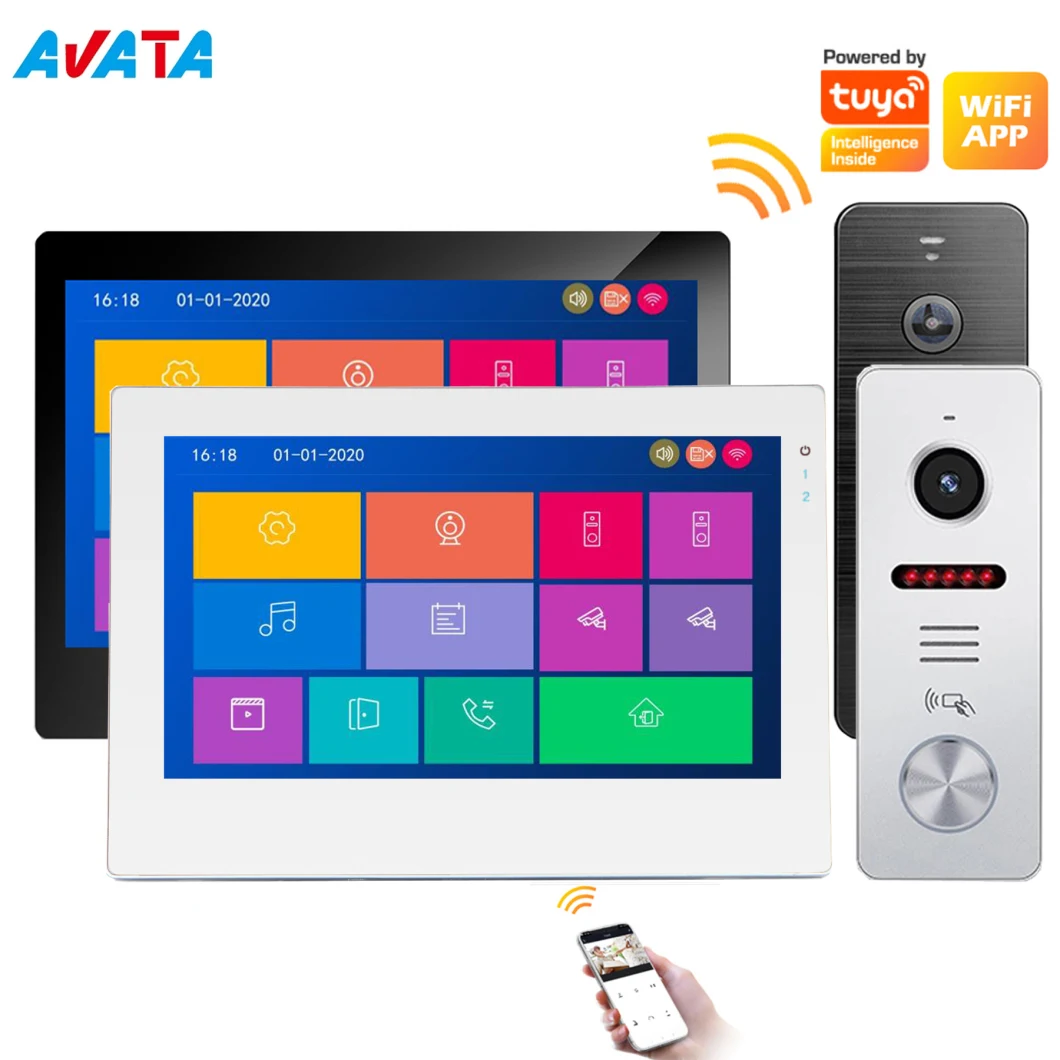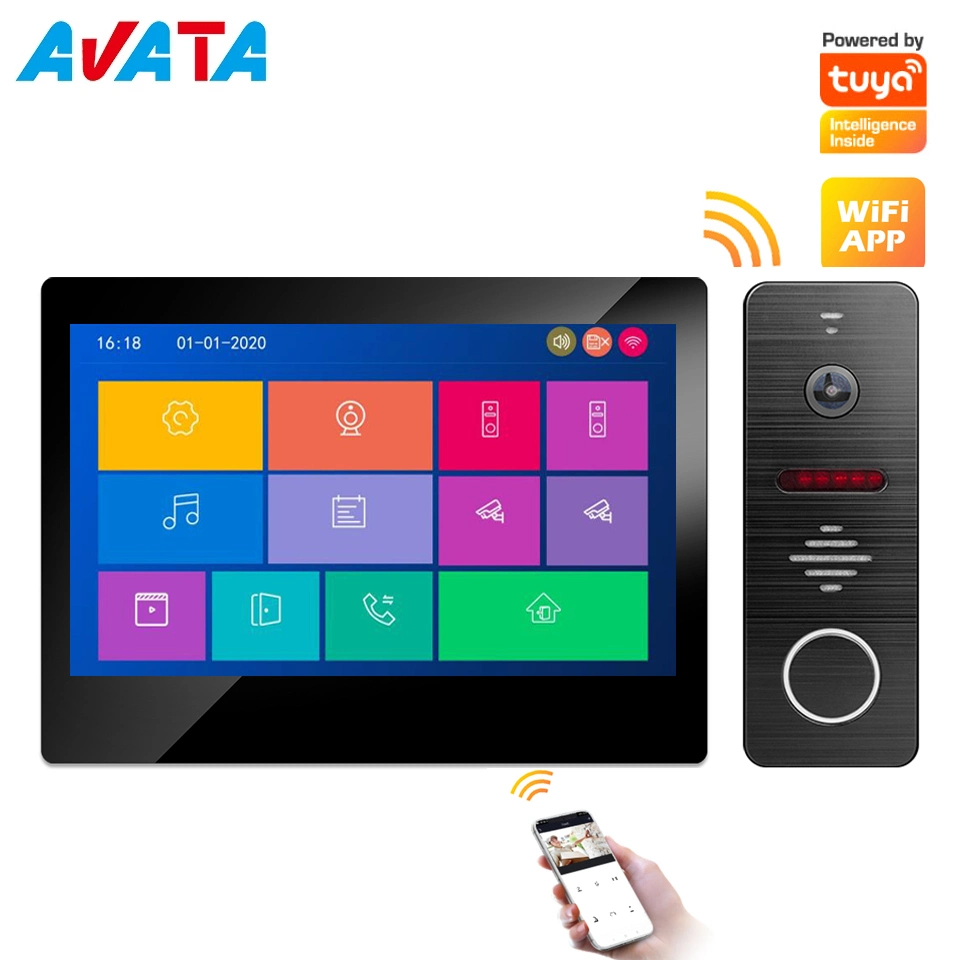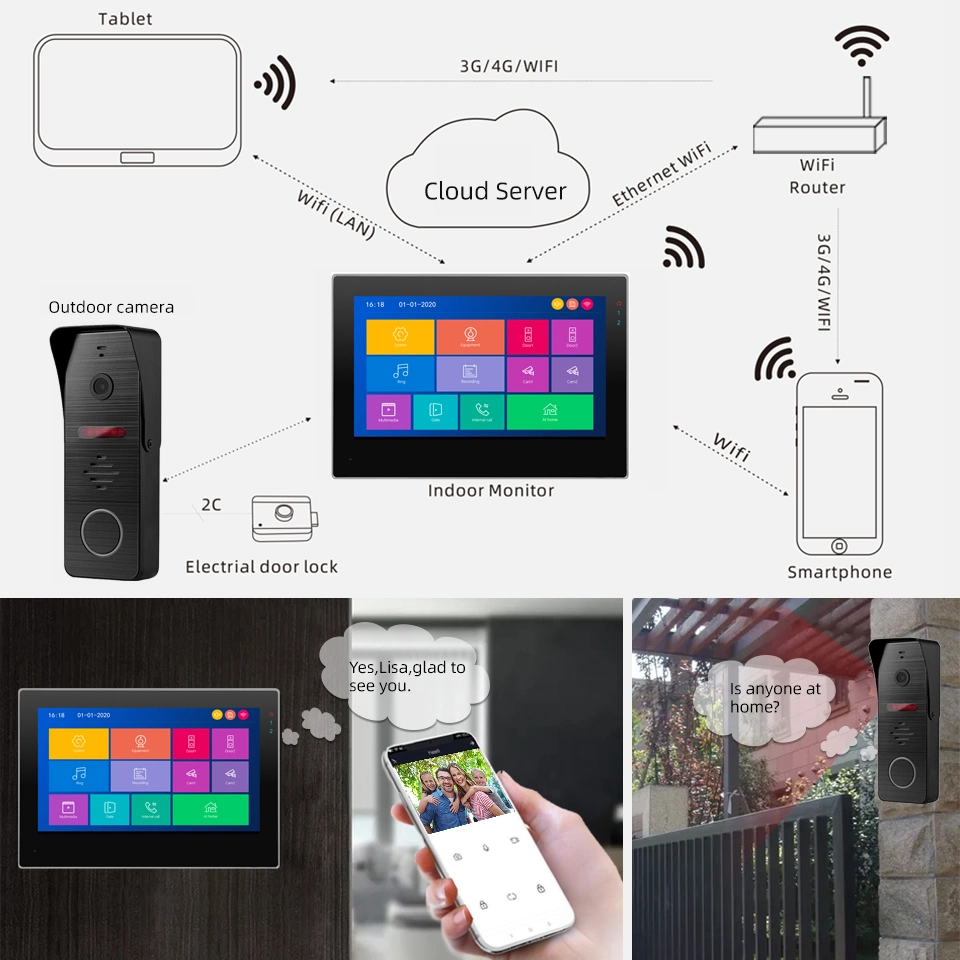 DIAGRAM: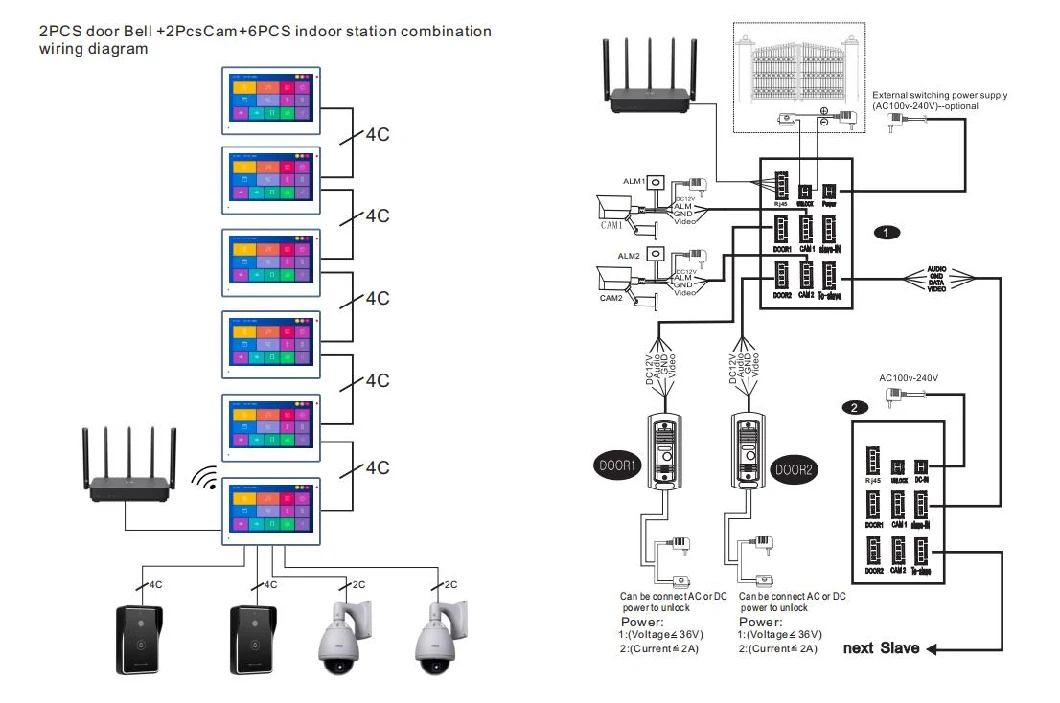 Description:
Features:
1.10
" Touch Screen HD display 1024x600
2.
Signal support 800TVL / 720P / 1080P
3.
Signal formats support CVBS / AHD / TVI / CVI
4.
10 polyphonic ring-tones switch freely
5.
With TUYA APP control
6.
Customized fancy start-up logo page to present your brand
7.
Easy DIY connection to the WiFi, only one click reach
8.
Simple steps to add device to the Tuya APP
9.All can be done within 1.5mins
10. Support Etherent
11.The server(tuya) covers 190+ countries and regions
12.Connection :4 wires
Indoor Monitor Main function:
1.Hands free intercom, Lock control
5.Video & audio recording
6.Simple DVR function with motion detection
7.Image capturing function
8.Multimedia function: Photo Frame, Music Playing
9.Support 2 Doorbells + 2 CCTVs + Monitors(up to 6)
10.Color, Brightness, Contrast, Volume and Display Mode adjustable
11.Real-time monitoring to Doorbells or CCTV camera
12.Intercom Call, Broadcast Function, Monitor Listening
13.Supports Door Panel unlock & Indoor Monitor unlock
Outdoor doorbell Features:
1.Surface/Corner mounting
3.Resolution: 800 TVL/720P/1080P (Optional)
4.Type of signal: AHD/CVBS/CVI/TVI (Optional)
6.Working temperature: -40ºC to +50ºC
8.Wide viewing angle 150 degree
9.Power voltage DC 10
-
15V
10.Power consumption 2.5W
11.Anti
-
sabotage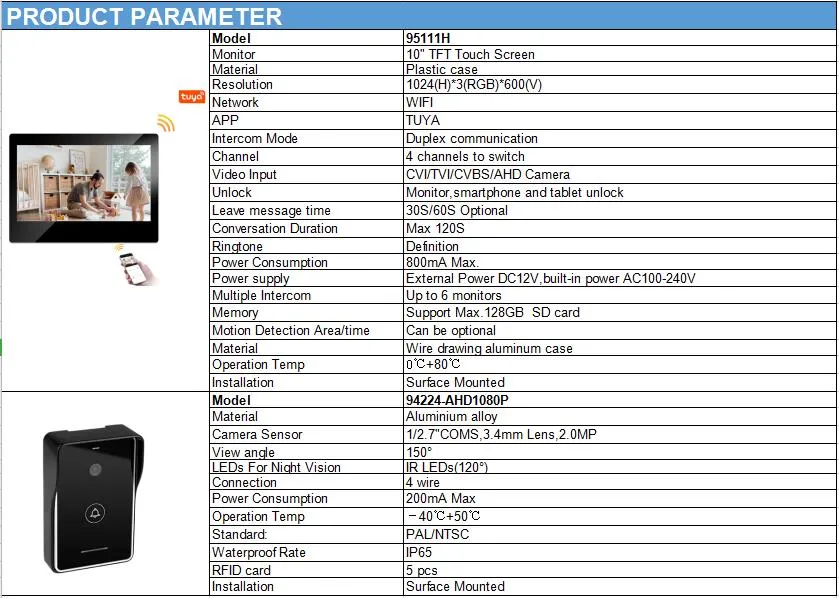 All our PRODUCTS are passed CE, RoHS, FCC certificates, and with 2 years warranty, welcome to visit our factory or take samples to test our quality.
PRODUCTION STEPS


CERTIFICATES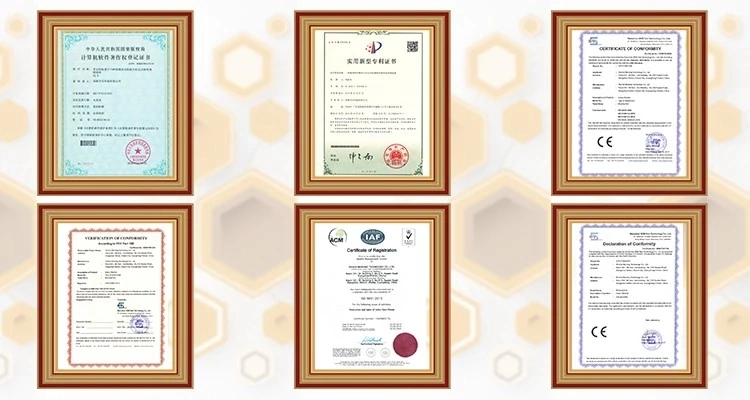 1.Is It possible support CVBS Video door phone ?
A:Yes ! can be work with 1AHD Call panel +1CVBS call panel +1AHD camera +1 CVBS panel

2. Do you have motion detection for video intercom?
A: Yes ! It's by software , no need connect with PIR Sensor ,motion detection from 1 call panel or 2 camera

3:How to play Music or Movies by indoor monitor ?
A:Download music or Movies from computer------Copy to the SD card ------ inside SD card to the monitor -----Play

4:What is Voice messgae ?
A: When you not at home , but your visitor pressing the call panel , after 30s or 120S , call panel will Auto say:Please leave a message , so that when you come back home can check video from indoor monitor who is come to you and in what time .

5:Please explain transfer calling how to work with Video door bell?
A: First our system are suppory connect 6 indoor monitor , When visitor press the call panel , Alina is answer the call , but visitor is looking for Mom , and mom at other room (No5 monitor ), So Alina can be choose No5 transfer call to Mom

6: Why 7 inch monitor resolution is 1024*600 , other company only 800*480 ?
A: Because we are doing different with market , In order to help our customer have Competitive advantage , win the market !

7: Warranty
A:24 months warranty

8: Warmly weclome to visit our factory