lightweight partition wall panel cement sandwich exterior wall panel for interior wall/exterior wall/roof/floor

Produc introduce
ZJT Lightweight Composite Energy-saving Sandwich Wall Panel is composed of face panel and interior filling.The material of face panel is thin fiber cement board or calcium silicate board,and the middle is filled with lightweight composite core materials,including cement,EPS and fly ash.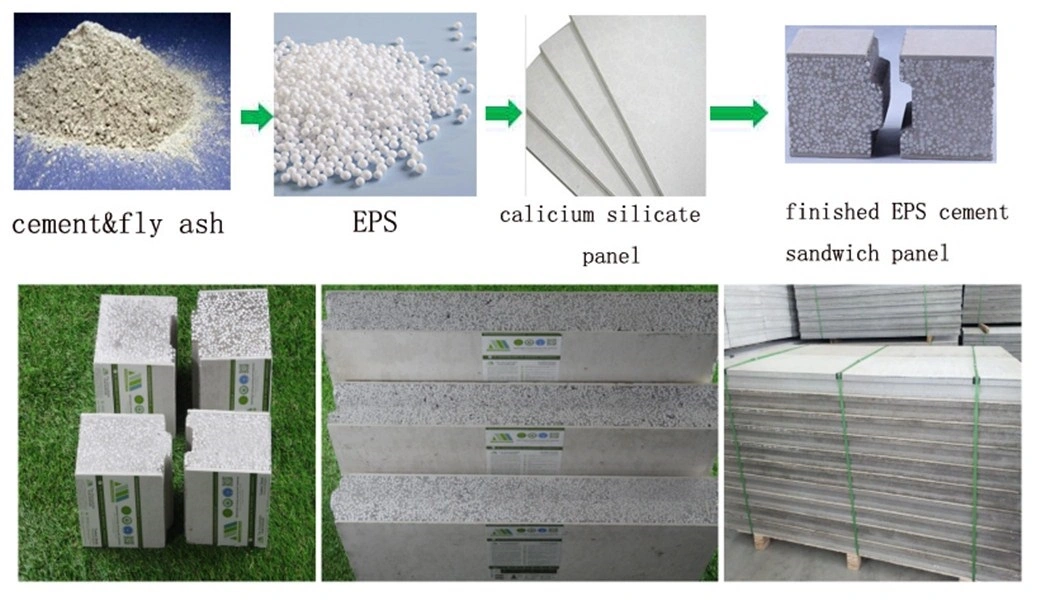 Product features
01.Hightweight the economic benefits,reduce project cost.
ZJT sandwich panel could optimize beam structures,adjust building layout and inprove application performance.It has following economic advantages:save living space,fast construction,low labour cost and 70% of panel could be recyled.
In addition to the above advantages, Zhongjingtai lightweight wall materials also save costs compared to other wall materials. Compared with traditional clay bricks, ceramsite bricks, and autoclaved aerated concrete, it can easily save 10% of construction costs.
02.Lightweight ,optimize structures.
ZJT lightweight energy-saving sandwich panel,the weight for thickness 75mm is about 60kg/m2,yhe average weight for the panel is 60-800kg/m3,while the bricks is 360kg/m2,the Autoclaved Aerated Concrete is 120kg/m2.Before the design,the flexibility to optimize the beam-column structure,improve economic efficiency,improving the room reasonable layout.Without the limitation of beam-column,the sandwich panel could be arbitrarily grooved and easy installated.
03.Space saving increase living space.
Red brick for four bedrooms,two living rooms,one kitchen and one bathroom 196m2,ZJT panel for four bedrooms,two living rooms,one kitchen and one bathroom 205m2,ZJT panels save 9 m2.
04.Sound insulation.
ZJT lightweight sandwich panels have good sound insulation,it is 40dB for 90mm thick wall and much better for thicker panels,the sound effects in the line with national residertial sound requirements,much higher than other excuses brick wall for sound effects.
05.Easy to construct,transport and time saving.
According to many groups construction sites dats,brick masonry construction capacity of 12 individuals for eight hours a day,if use ZJT wall panel in construction,three people could complete in 60 minutes,so efficiency advantage is very significant.
06..Earthquake resistance and impact resistance.
ZJT lightweight cement sandwich wall panels can resitst 8 intensity earthquake,whose seismic performance is 1.5 times that of the traditional wall materials.
07.Strong hanging force,can be slotted wiring and buried pipe.
By hanging test,the single point hanging force of wall panel can be up to 50kg and above level,and fully meet the wall of the general bearing applications,such as the installation of air-conditioning,condole ark,water heater,fixed,marble mesa skeleton support and so on.
Product advantage
01.Lightweight
02.Fireproof
03.Sound insulation
04.Fast construction
05.Environment friendly
06.Solid core
07.Slot and groove
08.Save space
09.Green
Product specification
Brand name

ZJT Lightweight Cement Sandwich Wall Panel

Length*Width (mm)

2270/2440*610mm

Thickness(mm)

60

75

90

100

120

150

Application

roof

interior wall

interior wall or floor
Packing and shipping
1.Free packing (with normal pallet and packing belt)
2.Standard exporting packing (wrapped with plastic thin film,edge protect and good pallet): USD20-30/Package 3.Packing size: 1500-3000*610*1000mm Loading: 18 pallets per 20' container, 11000kgs-18000kgs per 20' container.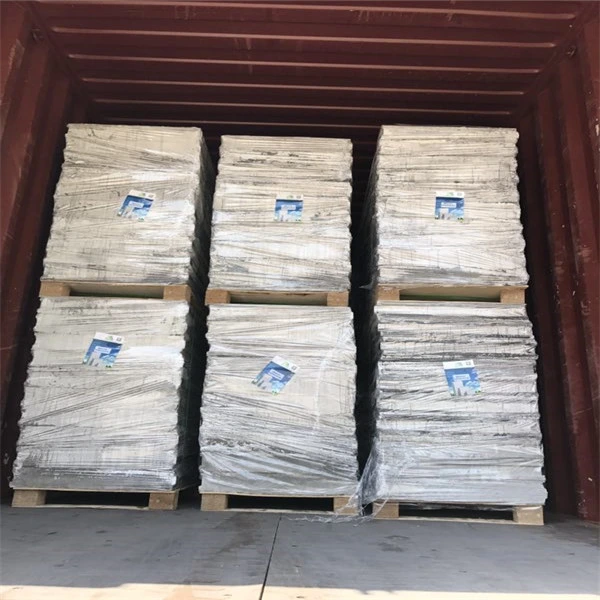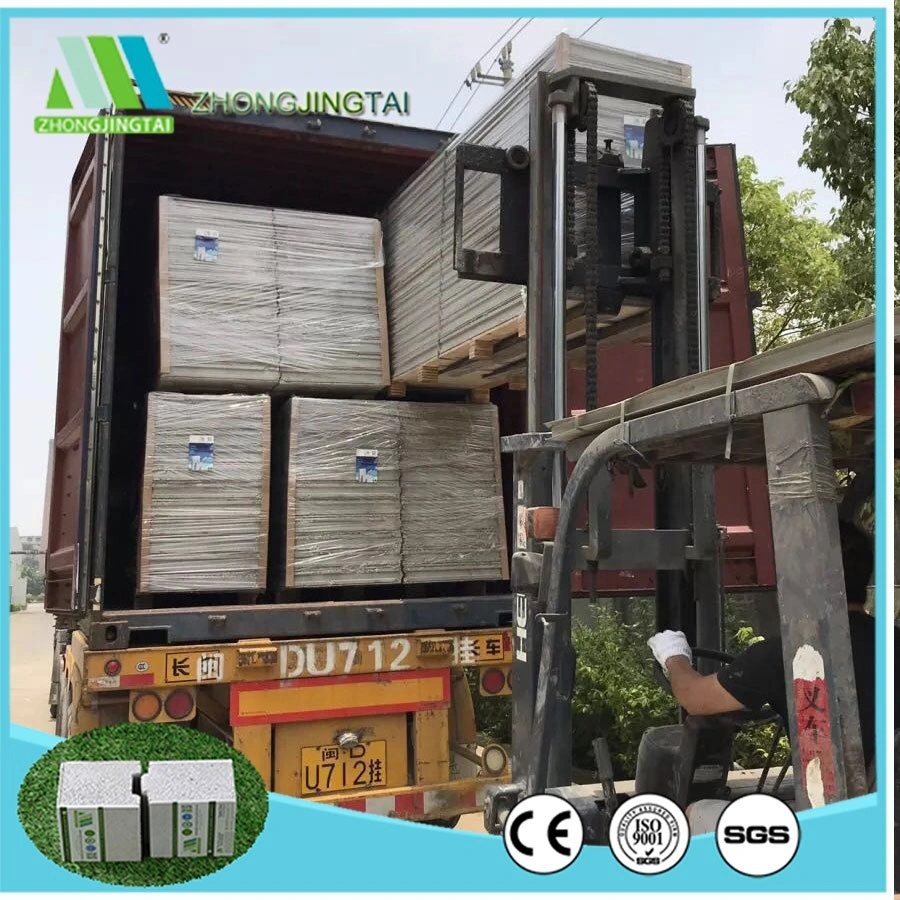 About us
Xiamen ZhongJingtai building materials Co., Ltd, is a professional high-tech research and development company producing new wall materials, machinery and equipment development, technology production and promotion of product applications. The company is situated in the charming Xiamen city, with the convenience of water and land transportation and only ten minutes from the airport. We respond positively to the national policy on wall reforming. We have developed successfully wall panels that meet the energy saving needs of modern architecture.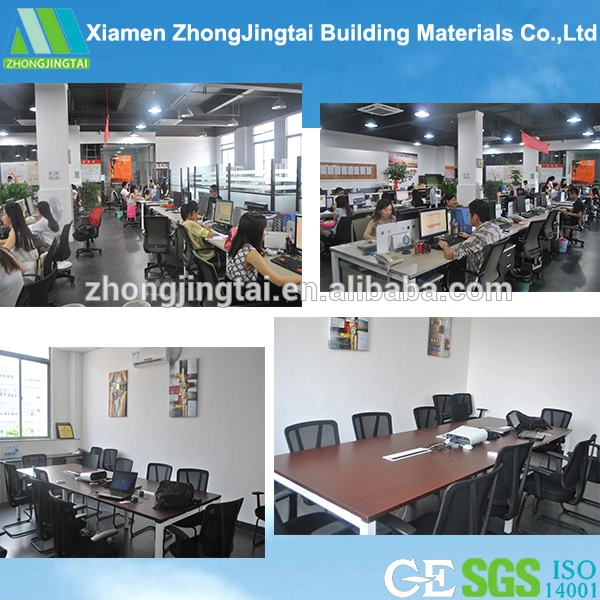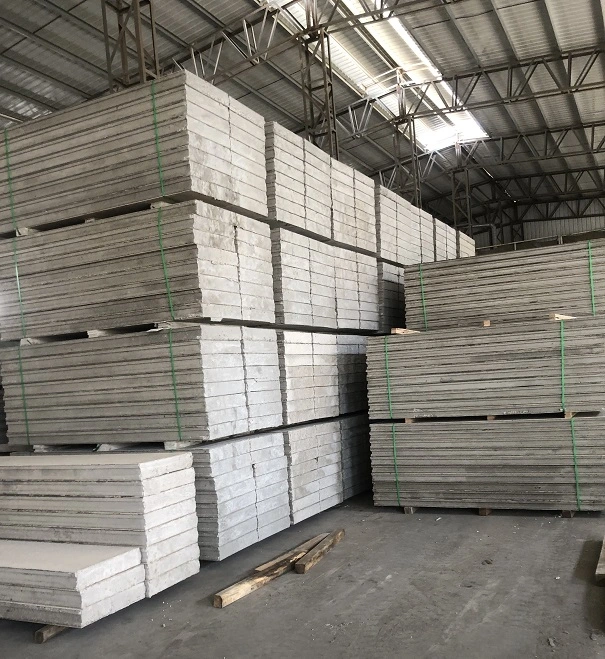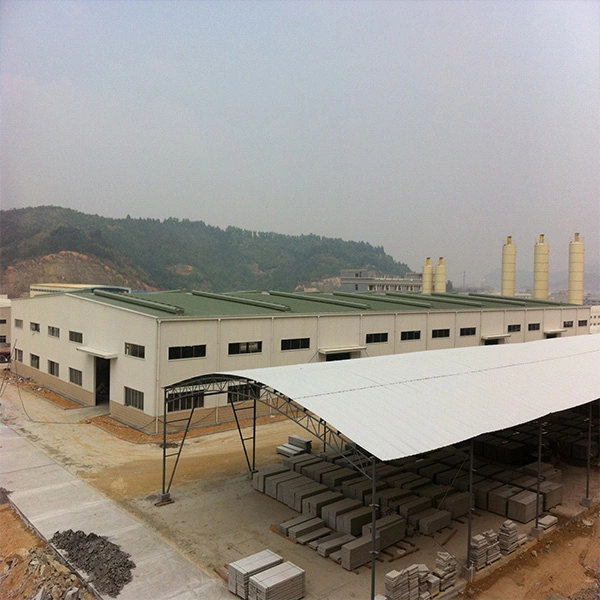 Exhibitions in Panama and the Philippines in Mid September 2019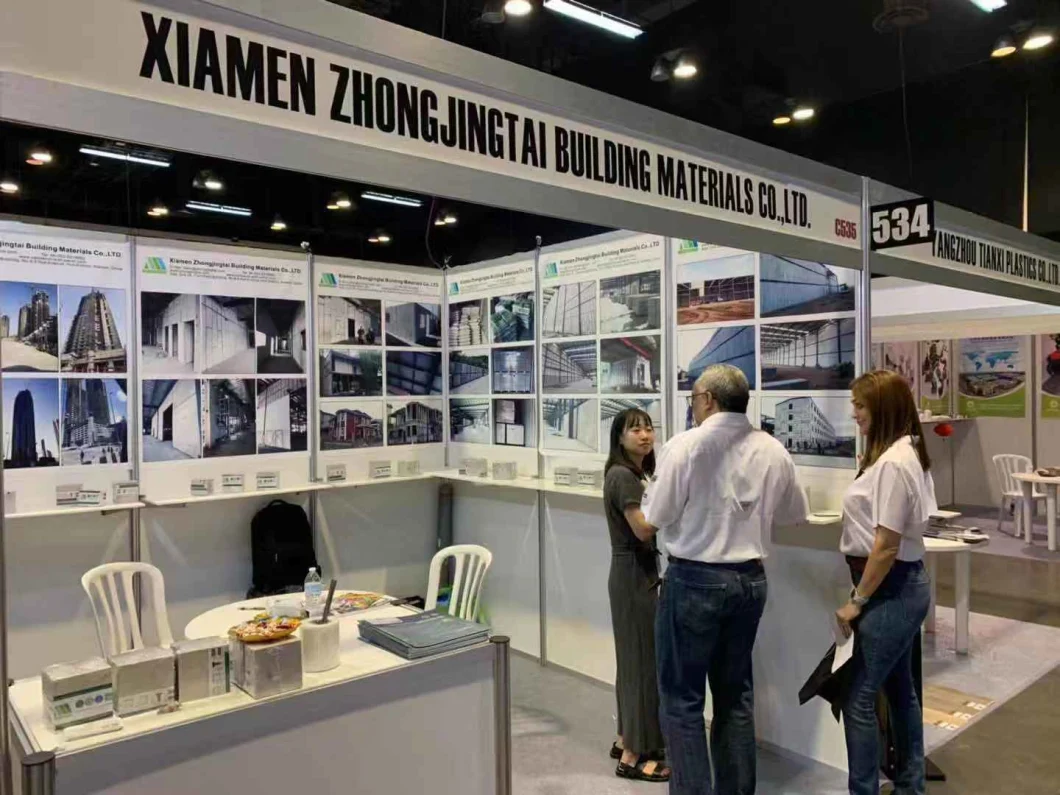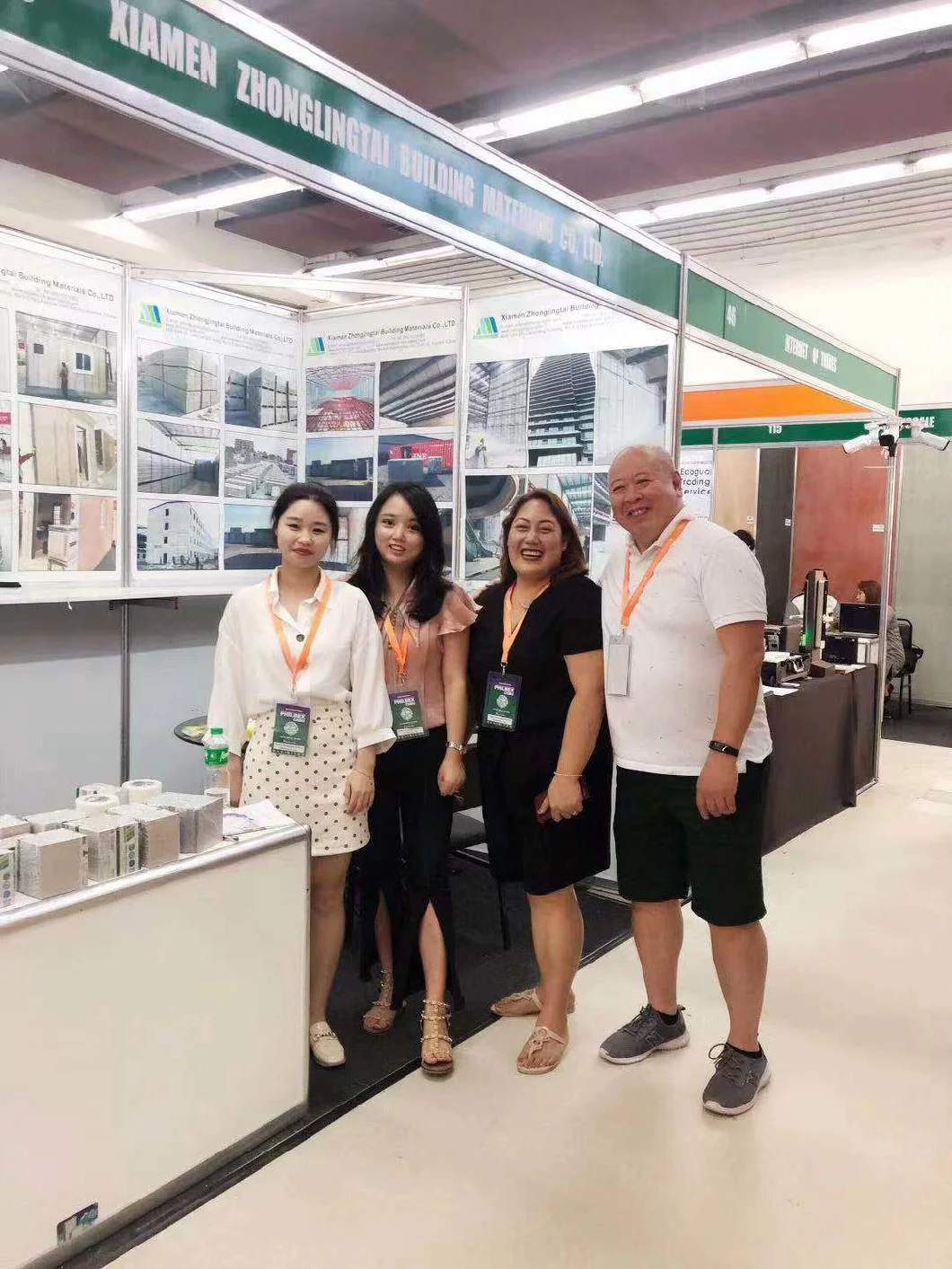 Certificate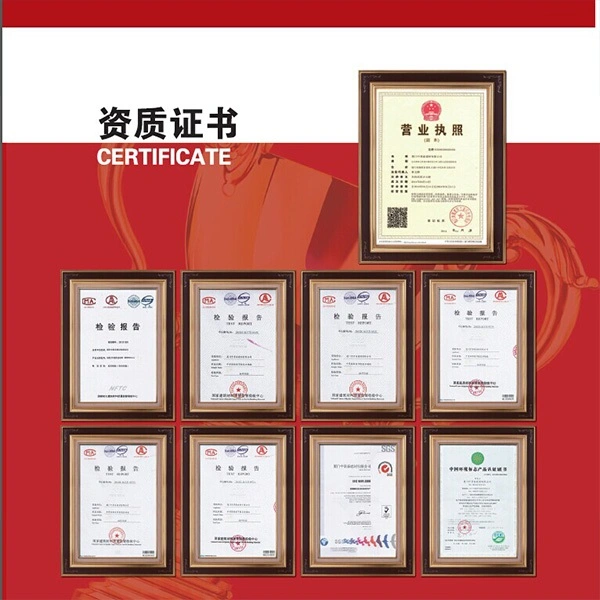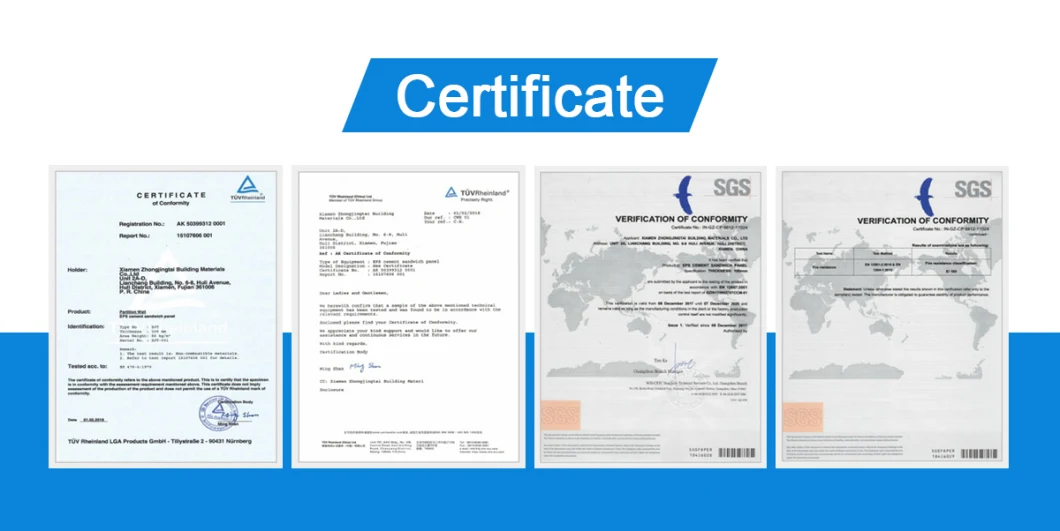 Contact us

Xiamen Zhongjingtai Building Materials Co., Ltd
Unit2A, Lianchang Building, No6-8 Huli District, Xiamen, China
Contact person:Jodie Huang


Website: zjteps.en.made-in-china.com