2.8" 240*320 MCU 16bit 24pin TFT LCD Touch Screen, Ili9341V, for Doorbell, Medical
| | | |
| --- | --- | --- |
| Item | Contents | Unit |
| LCD Type | TFT TRANSMISSIVE | / |
| Viewing direction | 12:00 | O' Clock |
| Module outline (W x HxD) | 69.20X50.00X2.3 | mm |
| Active area (WxH) | 43.20X57.60 | mm |
| Number of Dots | 240(RGB) x320 | / |
| Driver IC | ILI9341V | / |
| Colors | 262K | / |
| Backlight Type | 4 LED | / |
| Interface Type | 16bit MCU interface | / |
| Input voltage | 2.8 | V |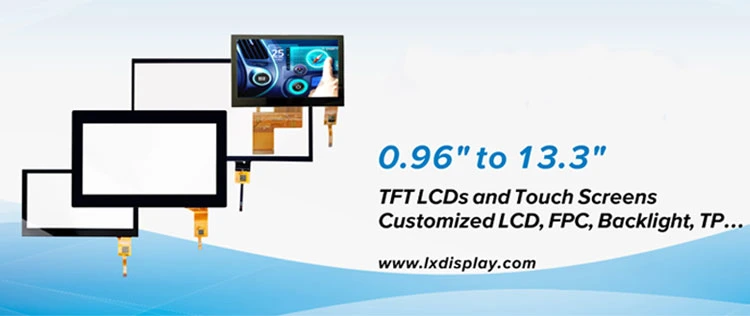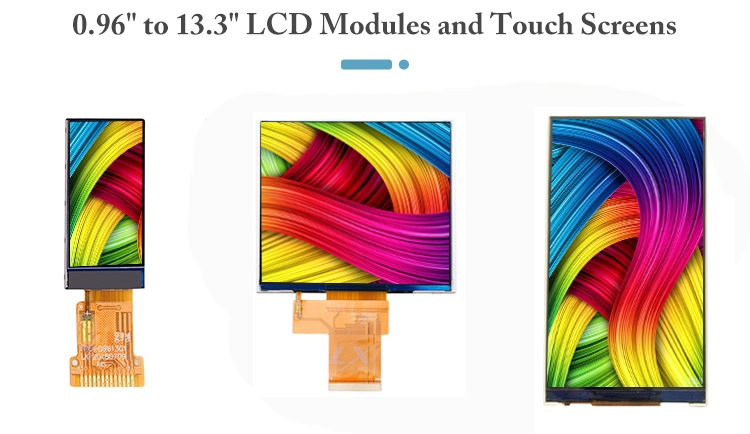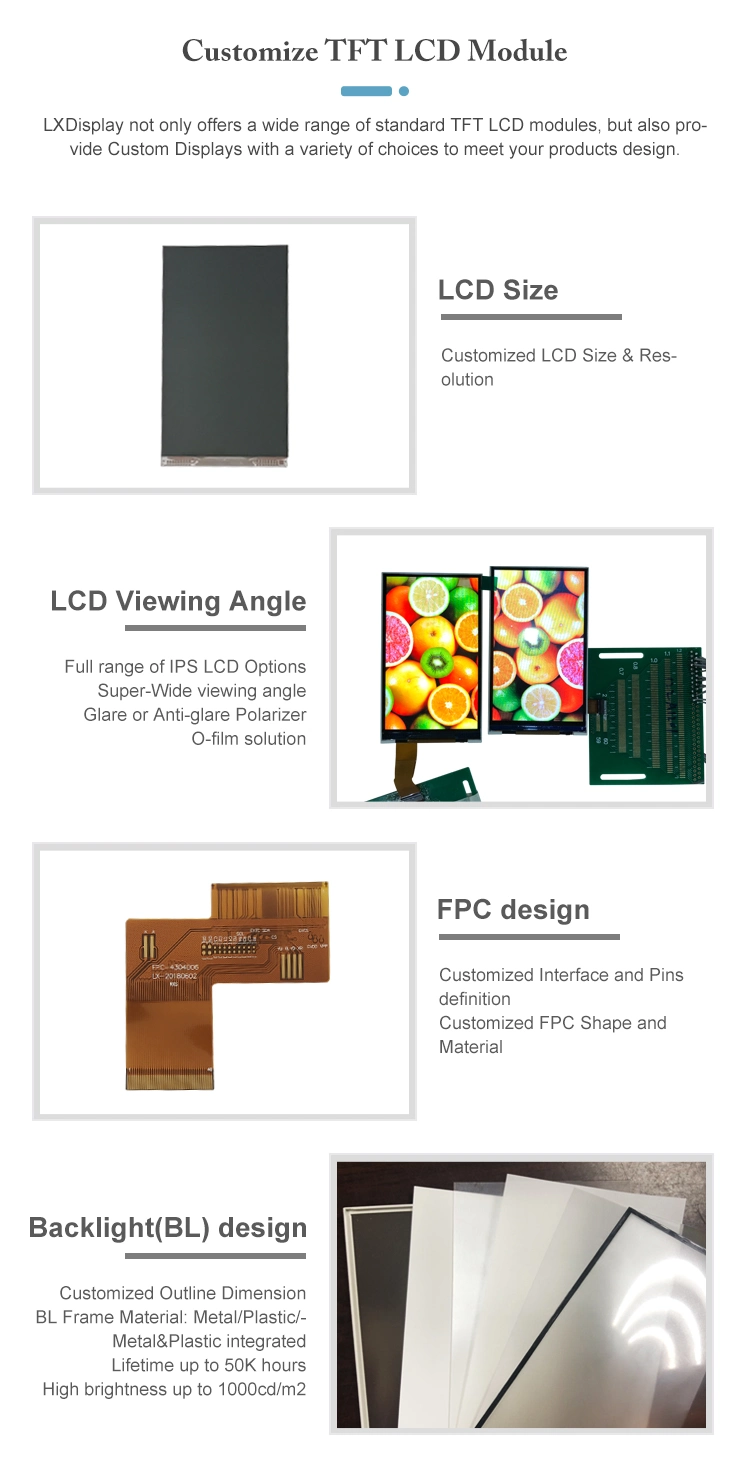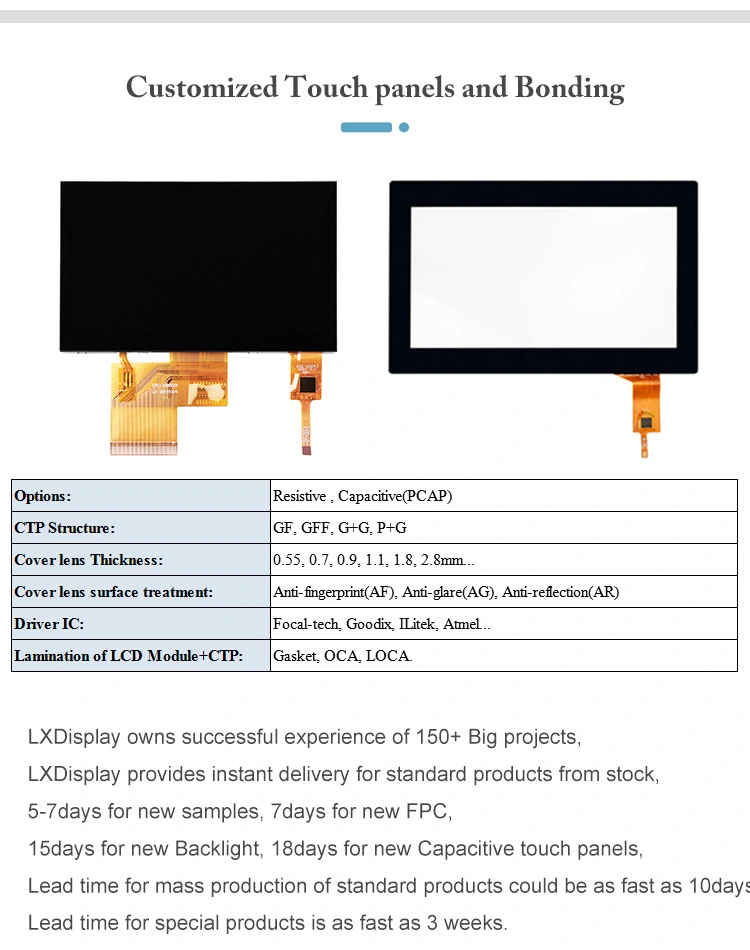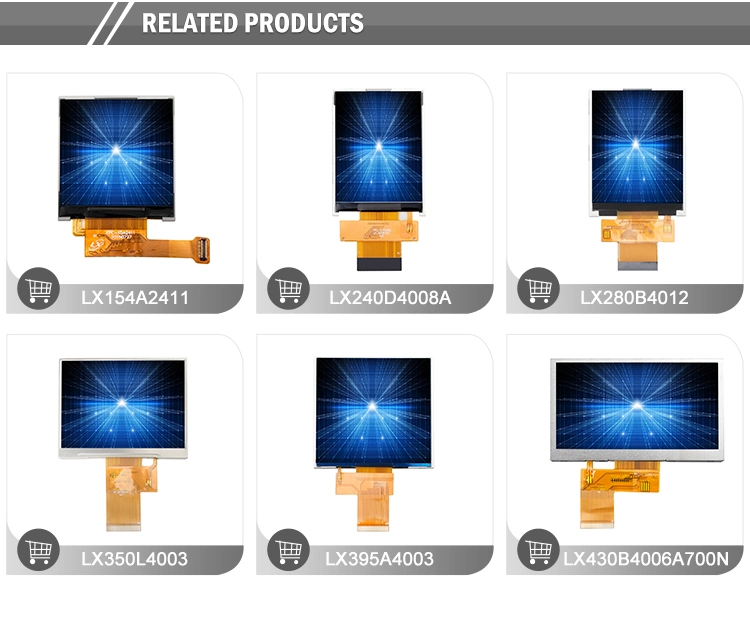 FAQ
Q1. How can I trust your product quality?
A:
--Our Raw materials are all ROHS compliant .
--LXDisplay is an ISO9001:2008 and ISO9001:2015 Certified company, we've been adhering to the ISO standards strictly in our production.
--Our products are 100% Visual and Function test before shipments.
Meanwhile, we do necessary Aging test and Reliability tests to our TFT Display modules, eg. Store and Operate in High and Low Temperature & High Humidity Environment, ESD and anti-interference test , Drop(with package) and Vibration Test.
Our Touch Screens goes through Salt spray test, Hardness test, Steel ball Drop test, Flatness test, Thermal shock test…
--Our experience and proficiency make the qualification rate always being 99.7% or above.
--We work with : JADO China, MI, A.O.Smith, Philips, Avnet, Samsung…
Q2. Which sizes of LCDs and Touch Panels do you provide?
A:
--Small sizes which include: 0.96", 1.22", 1.3", 1.44", 1.54", 1.77", 2.0", 2.4", 2.7", 2.8", 3.0", 3.2", 3.5", 3.95", 3.97", 4.3", 5", 5.6", 6.86".
--Middle sizes which include: 7", 8", 9", 10.1", 10.2", 13.3".
Q3. Can I have a sample order of before formal order?
A: Yes, sample order is always welcome for new projects or replacement of running projects. We have stock of many standard models of TFT LCD modules and Touch screens from 0.96inch to 13.3inch , which means delivery is able to be made the same day as order.
Q4. What is the lead time for Sample order and Mass Production order?
A:
--For LXDisplay standard products, the lead time for samples is usually 1-7 days, for mass production it could be as fast as 10 days.
--For Customized products,
We are able to get new FPC ready in 7days, new Backlight in 15days, and new Capacitive touch panel or Resistive touch panel in 18days.
Mass production of special products could be as fast as 3weeks.
--In summary, based on our years of big output, we have been keeping good relationship with LCD panel, IC and other material suppliers, we had a steady supply even when there was heavy shortage of materials.
Q5. Do you have MOQ requirement?
A: Yes, it depends on different sizes of products. Please refer to our sales, thanks.
Q6. How do I work with you on Customized products?
A: Firstly please provide us the description of your special requirements, any Drawing or Specification---Our engineers will work out the compatible solution and also mould cost (if any)---We provide Drawing and Specification for Approval---We provide samples for approval after reliability test and aging test---We make modification if necessary---We do small quantity of trial order (if required)---We do mass production.
Q7. Can I have my own silk screen Logo, Part Number or small label?
A: Yes, Definitely. It may requires MOQ, please refer to our sales, thanks.
Q8.How long is the warranty and what is your after-sales service?
A: Usually 12 Months.
If there is any defect within 12months from receiving products, please contact our sales, we will respond within 24hours. If we require any product to be returned to us, the shipping cost will be fully paid by us.
Q9. Do you have any shipping account and can you quote favorable shipping cost?
A: Yes, we have been working with DHL, Fedex more than 11 years, our shipping accounts were granted discount as much as 85% off . Please feel free to ask our sales no matter it is sample or formal order shipment.