J&R SIP Intercom,Hands free Intercom for Outdoor/Indoor

Application:
Model Number:JR304-SC
Elevators Telephones can be installed on Walkways, in Parking Lots and Garages, School Playgrounds and Athletic Fields, ATM Machines, Hospitals, Information Centers and for Escort Service or Assistance.
Elevator Telpehones service: Universities & Colleges, Schools, Police Departments, Banks, Business Complexes, Industrial Developments, Shopping Centers, Public Areas.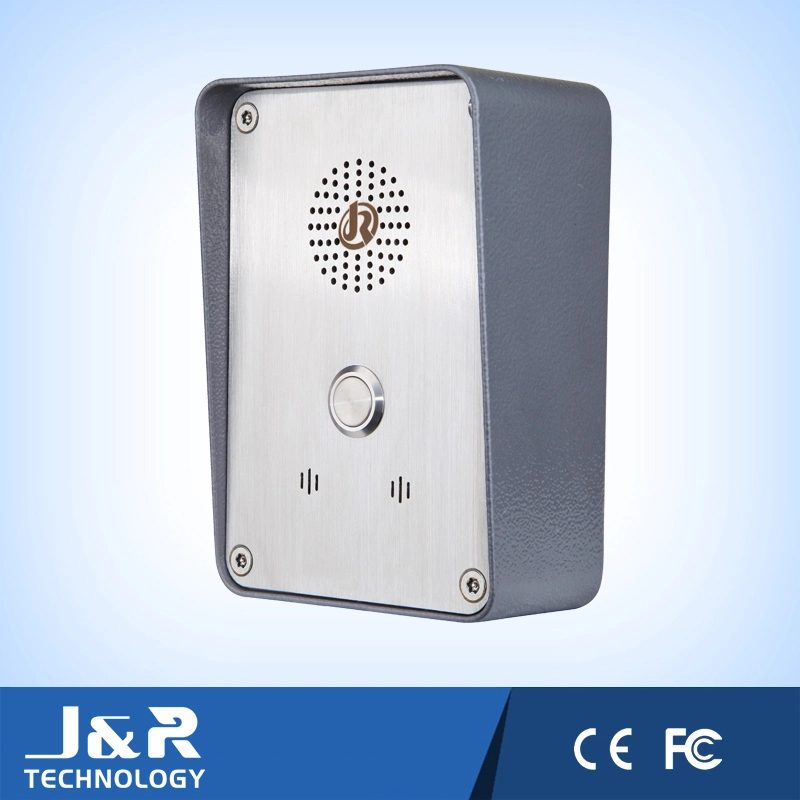 FEATURES:
Analogue/SIP/GSM/3G phone
Robust housing, constructed of stainless steel
Mini size, easy installation
Vandal resistant metal button
Hands free operation
Programmable for speed-dialing (PPT)
Can set a service number to receive service calls
Non-volatile memory
On wall mounting, simple installation
Weather protection IP54-IP65
4 X Tamper proof screws for mounting
Fast-fit terminal connection
CE, FCC compliant
Suitable for indoor & outdoor application
Automatic Shut-Off
Remote Shut-Off
Adjustable Time Out Functions
emergency button external output control. (i.e. Blinking or Flashing Strobe)
Designed to flush mount or surface mount into flat surface
The phone has stainless steel faceplate, Material: Metal SS 304,thickness 2 mm.
The telephone electronics is on the rear of the faceplate and is
covered with back box in CRCA for protection
The phone operates on standard analog phone line
It is Line powered i.e. power drawn from telephone line. It doesn't require battery or any external power source.
Built in Ringer, in front panel.
Sealed, push button keypad for smoother and faster dialing of numbers.
Dialing system: Tone dialing (DTMF)
No mechanical or moving parts.
TECHNICAL SPECIFICATIONS:
| | |
| --- | --- |
| Telephone Versions | Analogue,SIP,GSM,3G Optional |
| Operating Temperature | -30°C to +65°C |
| Storing Temperature | -40°C to +75°C |
| Ringing Tone | 80 dBA @ 1 metre typical |
| M.T.B.F. | excess of 50,000 hours using |
| Power Supply | telephone line or DC or solar powered |
| Weather Resistance | IP54-IP65 |
| Casing Material | stainless steel box |
PACKAGE:
Unit size: 110*160*70(mm)
Packaging materials: pearl cotton, carton
Net weight: 1.2KG