outdoor unit

name

Wireless video to the doorbell

price

model No memory card or battery No indoor unit

describe

features

wireless connection,Ultra-low power consumption,Remote active awakening,Quick start

use

Guests will be able to make video voice calls and take short videos. The owner will not need to open the door to know the information

Wake up the way

The doorbell button awakens,PIR body detection wake up,Mobile phone call

Alarm push

Push for 1 second

operating system

Number of users online

Multiple users are online simultaneously

Dynamic DNS

Bring your own dynamic domain name

processor

A powerful, high-performance, programmable media HiSilicon processor with built-in ARM926 @max. 440MHz and high-speed video coprocessor

collect

CCD

1/2.7

inch

108

0p scan CMOS sensor

Sensor performance

Support automatic white balance, automatic gain control, automatic backlighting compensation

SNR

≥39dB

Lens/visual Angle

2.6mm

@F2

.0

/1

55

°

LED

Double filter automatic switching, six 850 - nm Φ 28 mil high power infrared lamp, night vision 10 meters

IR control

IR opens night vision,Automatic detection of infrared and ICR;IR shuts the night vision function off the infrared and the ICR is fixed in daily viewing mode

video

Compression standard

H.264 Main Profile/H.264 Baseline Profile/MJPEG/JPEG Baseline

Video coding

More stream:1080P/15fps/

720P/

15

fps+VGA/30fps+QVGA/30fps+

108

0P @1fsJPEG snap

resolution

1

92

0*

108

0/1280*720P

audio

input

1 channel built-in -

3

8dB microphone

output

Built-in speaker (8 Ω 1 w)

interphone

Two - way voice - speak, bring back the echo cancellation

Compression standard/ code rate

ADPCM/32kbps

network

Network protocol

TCP/IP,HTTP,TCP,UDP,SMTP,FTP,DHCP,DNS,DDNS,NTP,UPnP,RTSP,P2P

wireless network

802.11b/g/n

Wireless network security

WPS Security encryption

wireless connection

One-button WIFI configuration

video

Video mode

Mobile detection video, doorbell button trigger video, manual video

storage

The TF card stores the maximum support for 32gb

other

power

Battery power supply two section 18650 core international general

Power consumption

Standby current 120 uA working current 170MA

work environment

Working temperature: - 10 ~ 50 ºC, humidity is < 95%

installation

Door wall mounting

material

ABS

Product size

161mm x 74mm x36mm

product weight

190g/No battery

Packing size

/

Two-Way Audio - Communicate with visitors via two-way audio with noise cancellation microphone. It's weather-resistant, you can always monitor your front door by watching real-time videos on cellphone at home or outside.Enhanced Wi-Fi connection can work on mobile and desktop. Camera will send you alert through our APP, whenever our smart PIR motion is detected. The sensitive time is adjustable to start loop recording, and the expired video will be automatically deleted.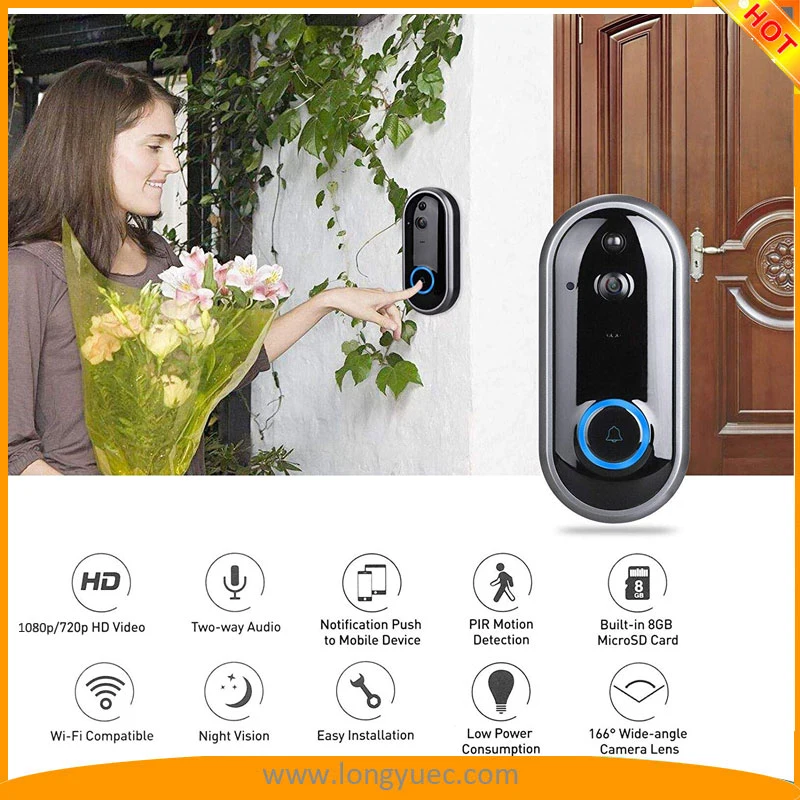 Night Vision - Video doorbell protect your home day and night with infrared night vision. Keep your home safe at night.no matter where you are.Designate zones you wish to monitor, and get alerts whenever someone enters the designated areas.Day or night, rain or shine, it allows you to take photography and record videos at any time.
Lower Power and Ultra & Long Standby Time - Adopt ultra low power technology. In this mode, the smart doorbell working time is more than 4 months, video doorbell comes with an innovative quick-release rechargeable battery pack, standby time more than a year.Operating Conditions work with in minus 4 degree Fahrenheit to 131 degree. Adopted two LG brand 18650 lithium batteries, capacity 3200mAh, higher safety performance, longer use and standby time than other doorbell.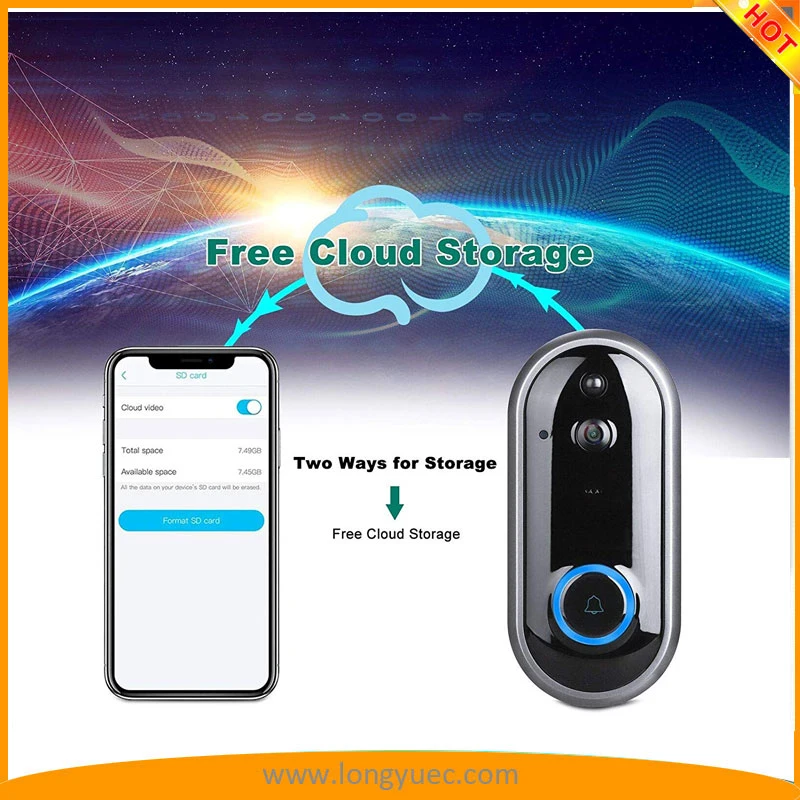 Motion detection- See clearly on every face at your door, never to be afraid to open the door. Real-time alerts, 166°Degree Wide Angle Lens, 720 HD video, two-way talk, remote wake-up. Meanwhile, you could also capture the photos or video clips at anytime and store in your phone or sandisk card instead of cloud storage. There's no limit to access the doorbell with smart phone, so you could set whole family members to monitor your home.
Easy Installation-Download the APP, then connect it to your doorbell, no need wires and cables are required. Answer the door wherever you are, see and speak to visitors directly from your smartphone or web using On-Demand video, meaning that you can view live video access to 720P HD live video at any time from your cellphone and smart device of your front porch at any time, even if no one rings the bell.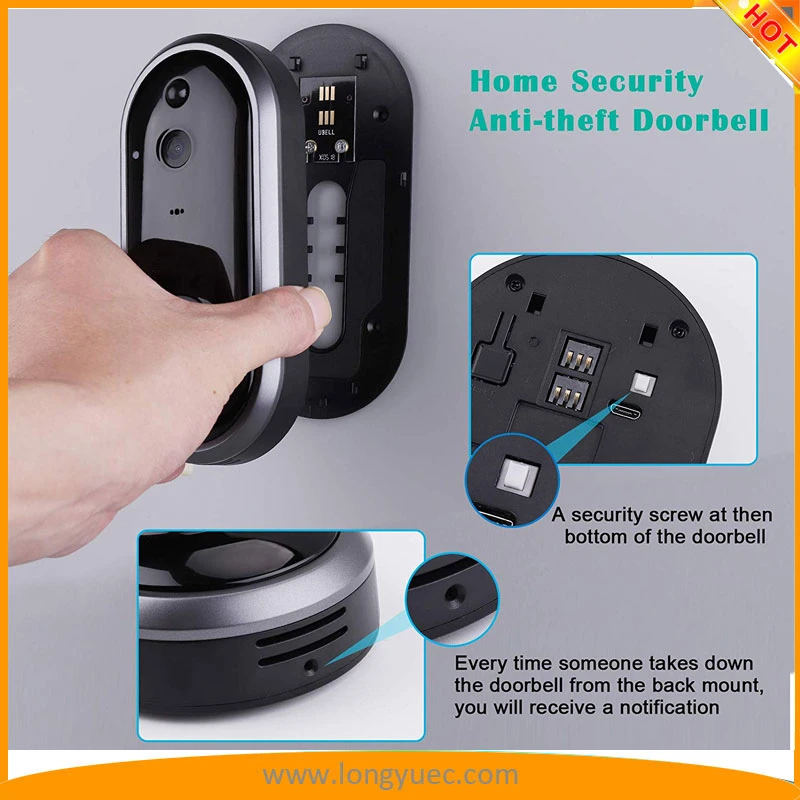 Company pictures :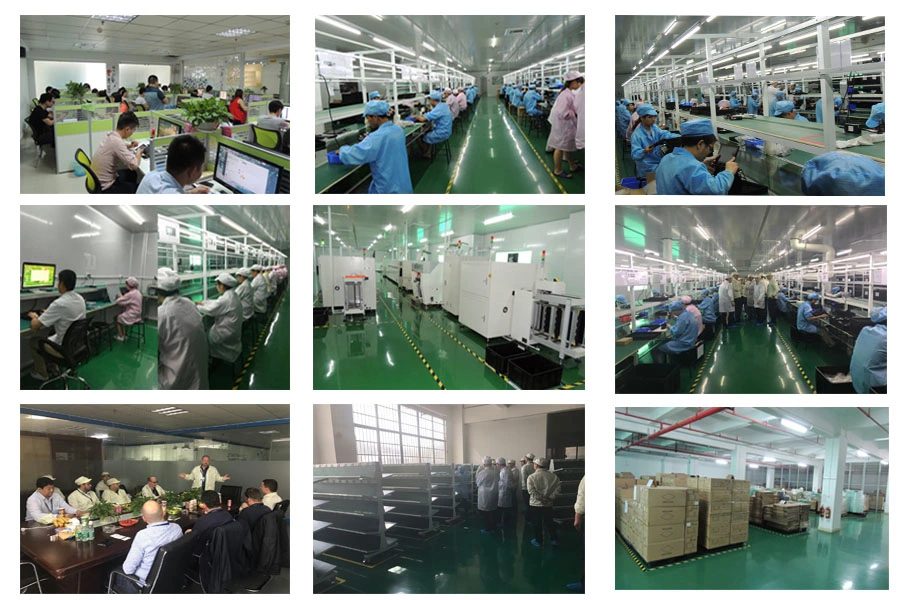 Certificates :