J&R Wireless Audio Intercom VoIP/SIP Intercom Outdoor Weatherproof IntercomFEATURES:
Analogue/VOIP/GSM/3G Telephone
Robust housing, constructed of stainless steel
Vandal resistant metal button
Hands free operation
Dual button for speed-dialing (PPT)
Config via web interface
Support 2 SIP account
Telephone line powered
DC or POE powered
Non-volatile memory
In wall mounting, simple installation
Weather protection IP54-IP65
4 X Tamper proof screws for mounting
DC 5V powered or PoE
RJ45 connector
CE, FCC compliant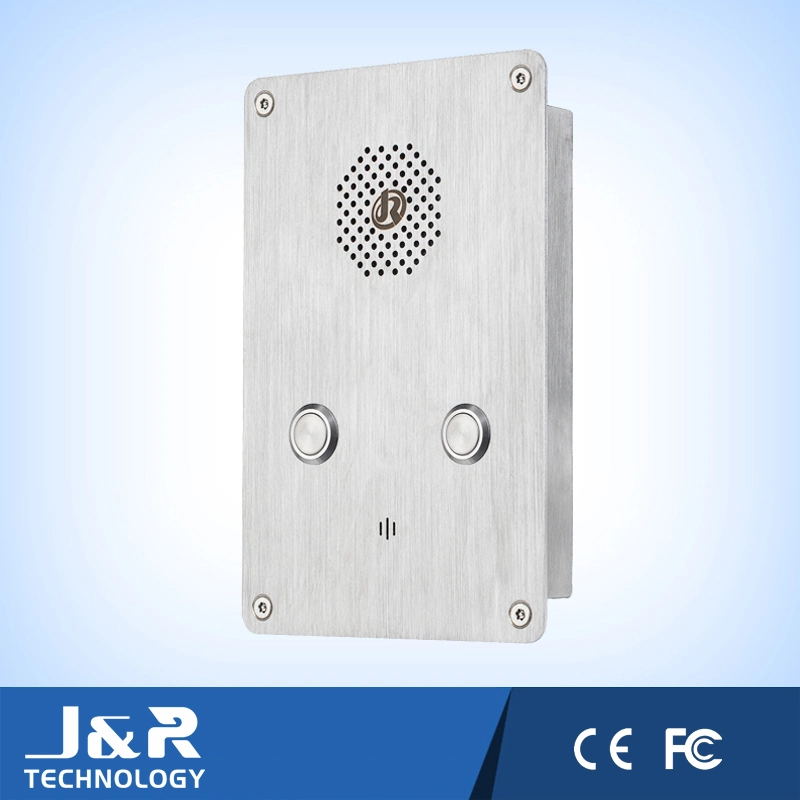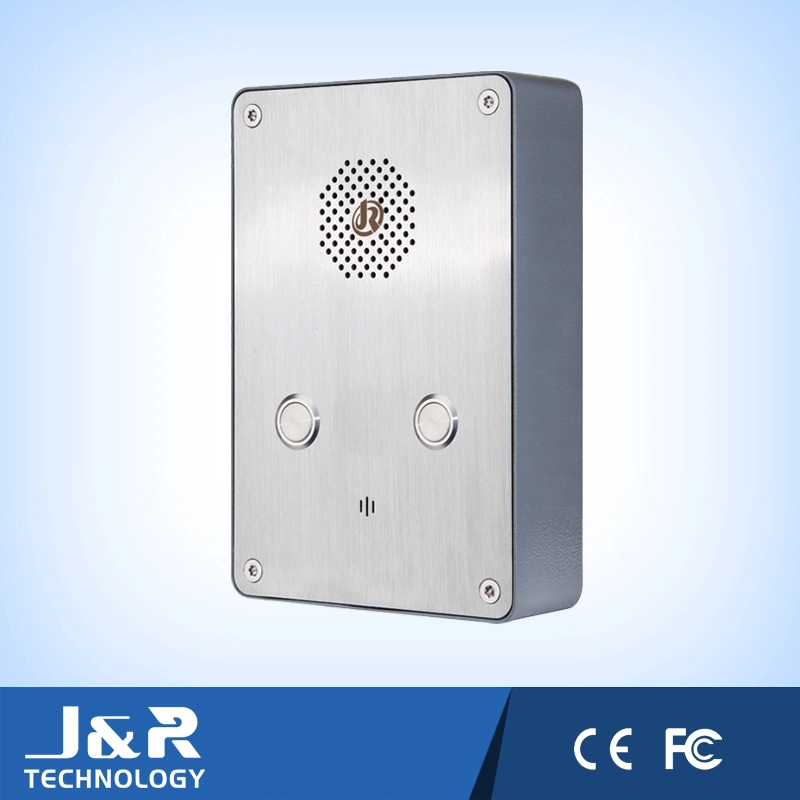 APPLICATIONS:
Dual Button VOIP Emergency Intercom telephone could used for Dormitory, universities,Highways,
Motorways,Parking Areas,schools, streets, public square, court houses, rail platforms, car-parks, police stations, hospitals, outside buildings, gate entry, etc.
TECHNICAL SPECIFICATIONS:
| | |
| --- | --- |
| Telephone Versions | Analogue,SIP,GSM,3G Optional |
| Operating Temperature | -30°C to +65°C |
| Storing Temperature | -40°C to +75°C |
| Ringing Tone | 80 dBA @ 1 metre typical |
| M.T.B.F. | excess of 50,000 hours using |
| Power Supply | telephone line or DC or solar powered |
| Weather Resistance | IP54-IP65 |
| Casing Material | stainless steel box |
Adapter(Input/Output)
Input:100-240VAC 50~60Hz Output:5V/1A
Power Consumption
Idle:1.5W/Active:1.8W
Network Feature
WAN/LAN: support Bridge mode.
Support PPPoE for xDSL
support VLAN
Support Stun penetration
PACKAGE:
Unit size: 136*206*42(mm)
Packaging materials: pearl cotton, carton
Net weight: 2KG
Gross weight: 3 KG